How Can I Get Started Marketing My Business Using A Website?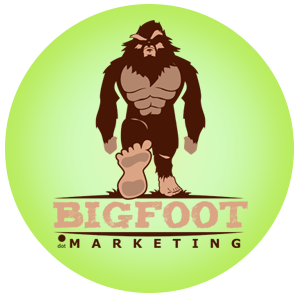 If you are brand new to selling your offers (products and/or services) using a website, you are asking, "How Can I Get Started Marketing My Business Using A Website?"
There are so many things that you could do, but here I am providing the five most basic things that you must do and they are listed in order that they should be done.
You've Got This!
There are just five things that you need to "GET", and in the order below (preferably) and you I can say with a certainty "You've Got This!"
It's Easier than Your Current Occupation
These things may be very different from how you spend your day now, but in every case, you are already doing things that are far more difficult and require greater skills and expertise than these things below.
Different and new, but not more difficult.
You've Got This!
Here's what you need to "GET", step by step:
(1) Get Your
Website
Developed
Get your domain name first.
(Your domain name is your "dotcom" or your the address of your website). In the early days, these were limited to .com, .net or .org but there a many more domain extensions available today.
If you are working with Bigfoot.Marketing, we will register your domain for you free. (We sell a bundled subscription service to our website editor, content management and marketing and we give away domains and hosting accounts.
You'll always want to get the .com version of your business when you can. If someone else has already taken it, no worries, take the next best that you can get.
Are you starting a new business?
If you are starting a new business, get your domain name registered BEFORE you file your business with your state or federal agencies.
The reason for this that will be publicly available information and there are many, many unethical companies that will "scrape these files" and then go and register matching domains in order to hold them hostage and try and get you to overpay to get them. Otherwise, domains are between $10 - $15 per year, depending upon which registrar you use.
Getting your website built.
There are literally tens of thousands of people that could build an "acceptable" website for you. If you pay them, then they qualify as "professionals". This does not mean they will be expert developers or even proficient designers. If they are paid, they are professionals.
Work with Best Way Websites and get the "BEST of both worlds."
Local Licensees & Universal Power
Best Way Websites is as powerful, easy to use website builder and content management system (CMS) or website editor. Best Way Websites has a licensee program that enables professionals in their communities to harness the power of its platform while providing a local presence.
If there is not yet a licensee near you, there will be soon.
Choose a Website Design Path
You've got two choices: 1) You can build your site yourself or 2) You can pay someone else to build it for you. Either way, start with Bigfoot.Marketing and Best Way Websites.
(2) Get Your
Location
Pinned
All major search engines collaborate with all of the major data aggregators when it comes to search results from the search engines, and the foundation for local discovery in search is to have your business created and/or "claimed" with the data aggregators.
This makes it possible to have your business's location "pinned" on the maps for the major search engines such as google, bing and yahoo, as well as many other directories and applications.
You will need to either create accounts with each of these before mentioned entities or you will need to pay a company to do this for you.
Your Local Business Citation
This information that is collected and distributed by the data aggregators is commonly known as you "business citation." It is also frequently referred to as your NAP (name, address, phone number).
Getting this updated and current is your first step here. You start with the data aggregators.
Social Confirmations
Sometimes, your location can be verified via social check ins. For example, if your business has been verified by people using Facebook or other programs.
Pins on the Maps
Google, Bing and Yahoo all have maps integrated into their local search results. You'll need to either create accounts with them and go through their confirmation process or you'll need to hire a company to do this for you.
If you can afford it, hire someone. Your time is almost always more valuable here than the little bit of money it cost to have pros create and maintain it for you.
Is Your Business Already Pinned?
It might be! Just open google and search for the name of your business. Your business probably already has been added to the index, but you may still need to "claim" it so you can update it, reply to reviews and access other information about your business.
Let Bigfoot.Marketing Do it For You!
We can do this for you. Create a free account and then give us a call. Please take the time to register for your free account BEFORE calling us. We'll have to have your business information to help you. Please do NOT waste our time and yours.
(3) Get Your
Community
Connected
"What is the best kind of advertising?"
"Word of Mouth, of course!"
Yes. The best kind of advertising is word of mouth, hands down. When one of our existing customers or someone that knows you provides an enthusiastic endorsement for your company's products and/or services, it is like rolling out the red carpet for a sale.
This is why you should have business pages created for the social platforms that are important to your industry and have connections for them to "share and/or follow" your business via their channels on your website.
Doing so makes it EASY for others to share your business socially.
Social sharing is today's Word of Mouth!
Social Business Pages
Most social platforms not only have a "consumer" side, but also provide a "business" side. For example, with Facebook, each user (consumer) has a "wall" where they post for their friends and read their friend's posts, but it also provides the function so any user can also create business "pages" for themselves and it is super-easy to do.
We can create a Facebook page for a business in 5 minutes. So if someone is charging you a lot of money to do this, they are being dishonest and participating in "price gouging". They are taking advantage of your ignorance. Shame on them!
Follow and Share Links
Follow and share links are connected to icons (little images representing each social outlet) or "badges or widgets" that you are able to embed on your website using a code snippet that you get from the social media platform.
When a website visitor taps on one of these FOLLOW icons or badges, they will be redirected to your social media page for that platform.
When a website visitor taps on one of these SHARE icons or badges, the underlying widget provided by the social platform will collect some info from your site automatically and then pass that information over to your websites visitor's social media account so they can easily share your business information with their friends and family.
(4) Get Your
Business
Recommended
People sharing your business socially (electronically) or personally (face-to-face) is one way of having your business recommended.
But what we're discussing here are formal reviews that come from reviews websites.
You've Already Got Reviews, Probably
If you've been in business for even a few months and have a few customers and if you are in a community with 25,000 persons or more in a 100 mile radius, more likely than not, your business has already been reviewed more than once.
Top Reviews Platforms
My favorite is Locals.Reviews. Mainly because I am the architect of it. It is unique because it focuses upon reviews that come from a business's "local" customers and it was created to enable those whom I love (local, small business owners) to get more great reviews and be able to manage them.
Unlike other reviews sites that are 100% outside of the control of the business owners that are reviewed, Locals.Reviews provides a mechanism for the business owner to be in full control of the review process as it is published on their own websites.
This empowers the business owner to deal with unfair reviews. They cannot control what is published on other sites, but they can completely control what is published on their own!
Other Popular Reviews Sites
The Power of Locals.Reviews
Locals.Reviews enables you to collect reviews from any other platform and post it so it shows directly on your website, and you are in full control of this. (You aren't forced to show fraudulent, abusive reviews).
Your Locals.Reviews are indexed by google as well. Locals.Reviews is an established, bonafide 3rd party reviews platform.
Locals.Reviews includes the powerful NPS (Net Promoter Score) framework to enable its users to accurately measure how they are doing in business.
Locals.Reviews provides your business's reviewers to easily provide their feedback for your business. They are not required to create an account to do so. The process is in two steps: first is feedback and then is reviews.
Local's Reviews Via Best Way Websites
Best Way Websites has a Locals.Review module that is built-in. So, if you've registered with Bigfoot.Marketing or Best Way Websites and have subscribed to a service level that includes feedback and reviews, you can access it via the same panel.
Add Your Business to Locals.Reviews
(5) Get Your
Offers
Promoted
The final step is to start promoting your website.
Promote on your printed material. Print your domain & a QRC (Quick Response Code) on your ...

business cards
brochures
direct mail
flyers
point of sale posters

Promote on your vehicles.

Print your domain & a QRC (Quick Response Code) on them

Promote on your signage.
Promote on all of your social media accounts.

There is an "info" section on each of them where you can provide your URL (domain name)

Promote via Internet Marketing