Bigfoot Marketing
Getting Biggest Marketing Footprint Possible For Your Money
What is Bigfoot.Marketing?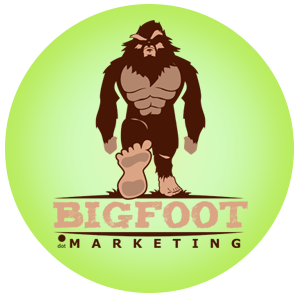 Bigfoot Marketing is a small business owners marketing strategy that teaches small business owners how to get the biggest marketing footprint possible with their limited marketing budgets.
Branding Vs. Marketing
Your business's brand includes your logo, colors and short messages (very short!). A brand alone is powerless to bring you customers and make you more money. Your branding MUST be simple and clear, but it is NOT "all important" to your company!
Branding is putting up your signs or your sponsor logos in places.
It takes effective MARKETING to promote a brand. Marketing includes your messages and the vehicles that are used to bring those messages to your target market.
Small businesses market with the hope of achieving what is often called "top of mind" awareness for their brands.
Top of Mind Awareness for Your Small Business
When someone in your target has a need for a product or service that your company provides, and the name or your business or your name is the first thing that they think of, you have achieved "top of mind awareness" with that person.
Small business owners face a significant challenge since many of them are competing with larger companies, franchises and "big box stores" that have HUGE marketing budgets. 
---
WHO is Bigfoot Marketing?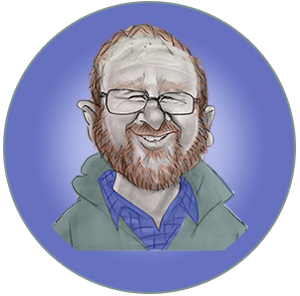 I'm Doug (Douglas E. Nevill, Sr), - the creator of Bigfoot Marketing.
The other local (Port Angeles, WA) Doug is my firstborn, a good and godly man and I am grateful for him. He is a systems and security administrator.
My Background
My dad started his own general contracting business when I was young. I initially became acquainted with small business operation through his company.
I've got a bit of artistic, language and mechanical gifts. I started designing logos for businesses when I was 16 years old - before computers. I was writing and helping to publish the high school newspaper as well and entered the setup, graphics and print media business at that time.
I started working and leading a shift at a restaurant in high school and managed a couple of restaurants shortly after college graduation.
Returning back to the printing industry, I began to work full time with small businesses via a printing shop in 1986. I worked for several companies as I was offered advancement opportunities and stayed in that industry until I setup my own printing company in 1999.
I served as a bi-vocational pastor for ten years (while operating my printing business). I hand-coded my first websites to sell printing through the internet, and about 3 years later, made the transition from print media to digital media (website development).
Varied Small Business Marketing Experience
I have worked with hundreds of small business owners and have devoted hundreds of hours to research and self-education to keep up with the changing environment in which small business owners must operate.
Marketing Agencies Vs. Real World Small Business Marketing
There are LOTS of marketing agencies (companies) that are peopled with kids that got a marketing degree from a college.
They've got a diploma and have been taught the technical aspects of using varying marketing vehicles. Therefore, they can show you places where you can spend money advertising.
However, they CANNOT provide knowledgeable advice to you when it comes to how your money spend will yield results. They have no "real world" experience.
I Know What You Should Do
By virtue of my day-in and day-out involvement with small business owners and my own experience as a small business owner, I can tell you how to create and maintain a strategy to successfully market your small business.