The Bigfoot.Marketing Business Startup Package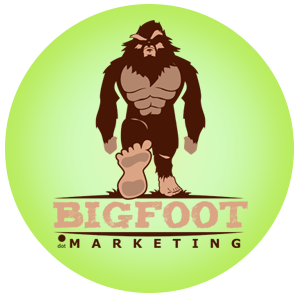 The Bigfoot.Marketing Business Startup Package costs only $500 and includes the following:
a one-hour consultation
a logo
a website
and 1,000 business cards
A One Hour Consultation
On the phone or in my office if you are local. I'll learn about you and your business and we'll help you make your new business venture a success.
If we determine that it is something that won't work, then we won't proceed with the business development. In such a case, you will owe me $120 for hour of time.
A Professional Logo
We'll develop a single concept for a logo. You logo is NOT a painting. It is NOT intended to be a work of art. It should very simply IDENTIFY your company or business.
You'll get an initial review and up to 2 revisions if necessary. No more. :-)
Your logo will not make you a dime. There are things that you need to work on, but focus on the things that will put dollars in your pocket, like developing a marketing message.
A Complete Website
We'll build you a beautiful, complete 100% mobile responsive website. We'll start by showing you a FREE DEMO of your site. If you don't like it, you don't buy it.
We'll take that risk! (Because we know you'll love it!)
1,000 Business Cards
We'll design, print and deliver 1,000 professional (heavy stock) business cards with rounded corners and printed on both sides in full color. This is our standard. If you want something different, we can do ANYTHING, but it will cost you a bit more.
What about Website Hosting?
You may host your site anywhere you want.
If you choose to subscribe to our website CMS, you get a free domain and a free, unlimited, business class hosting account.
What about Website Updates?
Glad you asked! Your website will be more valuable if it is not static and unchanging.
If you want "hands-off" webmaster services, we can provide that, but 99% of our clients maintain their own websites (after we build them) via a subscription service using the Best Way Websites website editor (CMS).
What is a CMS Subscription?
CMS is the abbreviation for Content Management System. You could call it a website editor. The difference is that a content management system offers a lot more than a simple website editor.
We are authorized licensees of Best Way Websites and use what we think is the best website builder and content management system on the earth ... or "in the cloud."
Our CMS is a web-based system, so there is never anything that you need to download.
The subscription starts at just $15/mo and it is a great value.
What about Internet Marketing?
We provide a full suite of internet marketing services, too. You can upgrade your subscription to include local search marketing and various other external, SEO (Search Engine Optimization) services as well.